Soren Hansen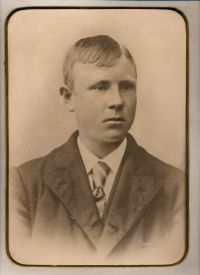 The note from my
grandfathers wallet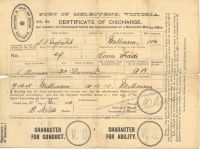 131 Rosebank Road
Avondale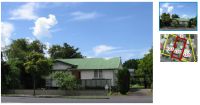 The letters
ab. 1916-18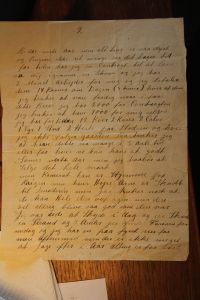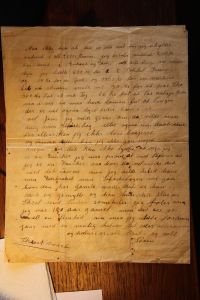 24. august 1920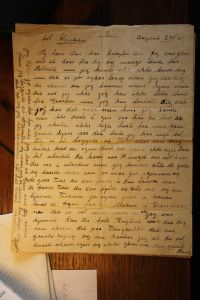 8. june 1921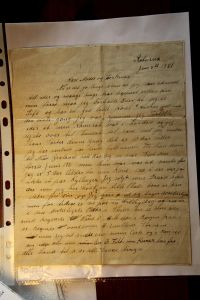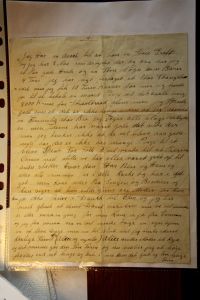 This time I have chosen to dive into one of my family's mysteries. The story about my granfathers half brother Soren Hansen. Until few months ago the only thing we knew about him was the following:
he was born in Voersaa, Denmark, June 20th 1885,
his mother was Ane Kirstine Kristensen (Stinne Dansk),
his father was crofter Soren Hansen Moller,
his parents were not married, and
Soren was baptized September 25th 1885 in the church of Albaek, Denmark.
The first information, I have found about him was from 1890. At that time, he was 5 years old and he was living with his mother and three siblings in Voersaa. One of these siblings was my grandfather, who was 8 years old at that time.
The story in my family about Soren Hansen is that he emmigrated to New Zealand from where he sent some letters to his mother. It was assumed that he died in the 1920s.
Fortunately, however, some of the letters from Soren Hansen to his mother exist. Recently, I became possible for me to read these letters. In these letters, he wrote about his life as a farmer. Among other things, he wrote that he was doing well, also when it came to his earnings from the farm. In the last letter, he wrote about his wedding with Alice, a sister of his friend, and their honeymoon to Roturua. He also wrote that he and Alice would love to travel to Denmark and visit his family. This last letter starts the story in my family: Maybe Soren and Alice perished on their way to Denmark.
My family did contact Red Cross to try to find out what happened to Soren Hansen, but without any luck. The family haven't heard anything about him ever since. Presumably, my grandfather thought a lot about his lost brother: Until his dead, he had a document in his wallet showing that Soren Hansen signed on the boat S/S Despashe in December 1908. Nobody knows where this document came from.
The letters gave me a clou, and made it possible for me to search after information about Soren Hansen in the databases in New Zealand. First, I searched after information about his marriage. This search only gave me one hit! However, there was some waiting time before I saw this document, because in New Zealand, they are not as lucky as we are in Denmark, where we can see such documents online. In New Zealand you have to order and pay for each document. I received the marriage certificate by mail, and there was no doubt: I had found the Soren Hansen I was looking for! In other words, for the first time in 90 years, my family got new information about him. It appears from the marriage certificate that Soren Hansen was married to Alice Edith Wheddon from London June 1st 1921. They were married in Raupo in Thomas Joseph Wheddon's (her brother's) house. This corresponds with information in the letters from Soren Hansen showing that Soren and Alice met through her brother in London.
The new information I got from the wedding certificate enabled me to continue my search and try find a time of dead. I made a wide search from 1921 and until today. Fortunately, Soren Hansen is not a common name in New Zealand. I was very surpriced when I found a Soren Hansen born June 20th 1885, who died as late as in 1974..... To be sure that I had found the right Soren Hansen, I had to see this dead certificate. This time, the certificate was sent both by email and mail, so much less waiting time this time. When I got the certificate, there was no doubt: It was the right Soren Hansen, widower after Alice Edith Wheddon, his mother was Ane Kirstine Kristensen, he died in Avondale, Auckland, January 17th 1974. Until his dead, his address was 131 Rosebank Road in Avondale.
As appears, Alice died before Soren, presumably July 6th 1956, 65 years old. However, this information is not confirmed. Both Soren and Alice are cremated and burried at Waikumete,the largest cemetary in New Zealand. Unfortunately, no archive over thombstones at that cemetary is available. Soren Hansen's dead certificate also shows us that at his dead, he had a living son aged 51. That is, Soren and Alice got a son around 1923.
The laws in New Zealand do not allow us to search for further information about the son of Soren Hansen, because births are protected the first 100 years. A search on 'Hansen' born in the period 1922-24 and alive in 1974 give me about 25 records. Today, this son might still be alive. If so, he is about 93 years old.
I have learnt a lot about Soren Hansen, but there are still a lot of questions:
Why didn't his family hear anything from him after 1921?
How was his life in New Zealand?
Is it possible to find any living family members in New Zealand?

To try to answer these questions, I have to keep searching!
Chapter two
Since last time, I was so lucky to find some "friends" in New Zealand on Facebook, with interest in genealogy.They let me be a member of their group. Most importantly, they were very helpful, when I asked for help. Within two hours, I got a lot of information about my family in New Zealand, some of which were documented, some of which were writen from documents. All in all, I got a lot of information that helped me to continue my search. Their information is supplemented with the will of Soren Hansen. The will of Soren Hansen tells us that he had a son called Robert Hansen. We also got the death certificate of his son. The two documents together with the information from my "friends" gave me a lot more of the history of Soren Hansen and his descendants.
Robert Hansen's death certificate gave me at lot of trustworthy information:
- He was born on November 17th 1922 in Arupoe.
- He was married to Joan Gertrude Stevens (they were married about 1944 in Auckland, she was born about 1926).
- Together, Robert and Joan got four children and at his death, his daugther was 54 years, while the three boys were 52, 46 and 33 years respectively
- He was working as a driver and groundsman.
- His home was on 5 Pembrooke Street, Papatoetoe
- Robert died June 13th 1999 and was buried June 16th 1999 at Manukau Memorieal Garden.
Later on I learned that:
- Joan died May 6th 2003, she was born August 23th 1925.
The will of Soren Hansen tells me the names of his four grandchildren.
And my "friends" in New Zealand have found a Geni profile administrated by Rebecca Lee Hansen, who is a great granddaughter of Soren Hansen.
https://www.geni.com/people/Robert-Hansen/6000000011731448394?through=6000000011730409147
My "friends" also gave me information from the electoral rolls. Here Soren Hansen is listed as:

- 1928 Turiwiri, Dargaville
- 1935 Living at Turiwiri, Dargaville farmer
- 1957 Awakino Road, Dargaville, retired
- 1963 Rosebank Road, Auckland retired
With the help of my "friends", my Danish family now know that we have family in New Zealand. We know that Soren Hansen's descendants are one son, four grandchildren, eleven great grandchildren and 13 greatgreat grandchildren.
But still there is a couple of questions that needs to be answered:
- Why did the family in Denmark lost contact with Soren Hansen?
- How was his life in New Zealand?

And maybe these questions generate more questions...
Next step might be to contact Rebecca on Geni. Unfortunately, however, she is not very active on Geni, but the person who never asks, will never get an answer. And hopefully we can gain more information so we can say
TO BE CONTINUED
You can reach me at JMJ@slaegtstrae.dk
Born and baptized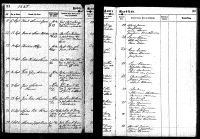 Confirmation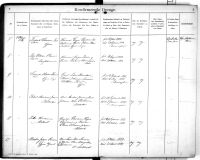 marriage certificate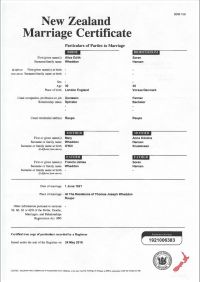 Alice last will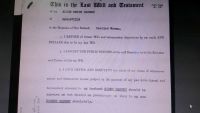 deadcertificate
of Soren Hansen